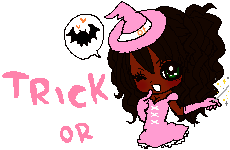 Today I have a treat for you guys~
Halloween is near and I keep seeing so many unique and intricate makeup looks online and social apps, so I felt inspired!
I'll be showing you guys the 1st Halloween look. I'm doing two different themes: cute vs. sexy! Today is cute version! (Kuro-Pirate will be the second post)
I've actually already hinted at what I'm dressed as today in the previous post. Can you guess which one in is?
🔪

Amekaji Clown Gal!

🔪
Y'all, I really couldn't let go of this idea after that last post. I thought it would be different and a lot of fun to do, and I was right!

My second sad attempt at cut crease makeup lmao
But I got to use my new maybelline dream bouncy blush! I love it so far~
♡
Products
♡
• CG queen collection - sheer espresso
• Nyx eyebrow gel - black
• ruby kisses liquid liner - white
• Maybelline dream bouncy blush - plum wine
• MR Pink Fizz palette - girl
• really cheap halloween makeup paint - green
• Nyx glitter liner - crystal pink
• Wet n wild glitter single - groupie (dabbed lightly on cheeks along with blush)
• cherry blossom lashes - #110 / diamond lash glamorous (as accent lashes) / ebay lower lashes
• Colourpop - More Better (topped w/ wet n wild glitter)

♡
Rundown
♡
• "you are next" beanie - H&M
• furry hair-ties - taobao
• choker ots top - taobao
• overalls - American Rag
• loose socks - taobao
• shoes - forever21
How is it?
I wish I had more colorful clothes for Amekaji. A nice bright puffy jacket or patches for these overalls would be great!
I remember the "one rolled up pant leg" and baggy jeans or overalls being one of my favorite details to gals' Amekaji coords.
Nevertheless I like how this turned out~
Stay tuned in to see my next Halloween post!
Love you! x amiman